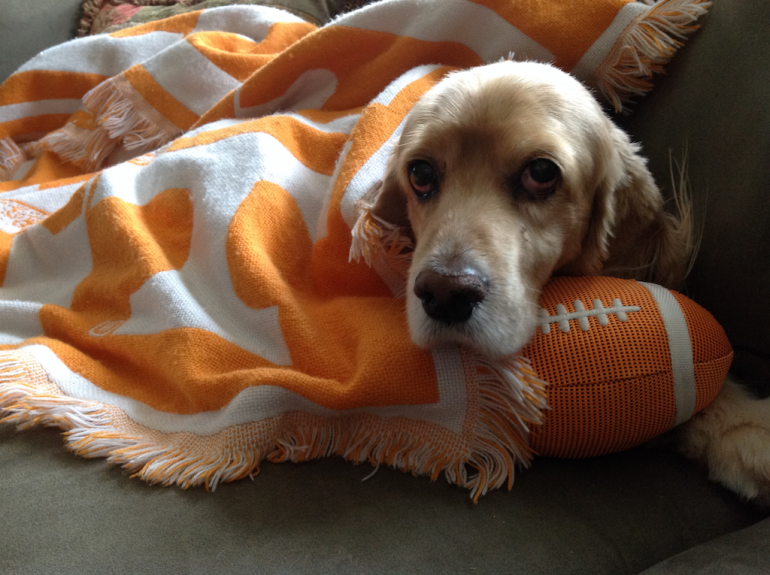 His name was Isaac Joseph. I've always assumed that was the name given to him by the rescue group that saved him. I have no clue what his original name was. Or if he even had an original name.
Isaac, Ike or Joey would have worked just fine. But I wanted him to have a completely fresh start. And a completely fresh start involved a completely fresh name. So I went with Rocky.
I'm a proud University of Tennessee alum. People naturally assumed my alma mater inspired his new name. And I used to say: "Top is his middle name."
But, truth be told, my school's unofficial fight song wasn't the only inspiration. It was obvious this dog was a fighter.
In the summer of 2009, Rocky was found wandering along the side of a highway. He weighed 20 pounds, was filthy dirty and his matted fur was covered in burrs. He was picked up and taken to a shelter. There, he tested heart worm positive.
Sick dogs don't get adopted. And shelters have neither the time nor money for those kind of dogs. His only crime was daring to survive, and yet he was placed on doggie death row.
He was two days from his end when he was discovered by the rescue group. He was out of the shelter, but his fight was far from over.
He broke my heart, then his was fixed. And we became inseparable. His first night home, I remember looking into his sorrowful eyes to speak to him.
"I don't know where you've been or what you've been through, but I know you've had it pretty rough. But those days are over. You're with me now, and I'm going to take care of you. I promise."
Little did I know his toughest fight was still yet to come.
Most people send cards or candy to loved ones on Valentine's Day. I had one of my dog's front legs removed due to Osteosarcoma. The day after the surgery, as I walked Rocky through the emergency room lobby, a man surveyed my dog's new form.
"Oh my God! What happened to him!?!"
"Cancer."
"Is he going to be all right?"
"Yeah. It got his leg, but that's all it's going to get."
I was wrong. Six months and multiple chemo treatments later, cancer took one of Rocky's back legs. There's a reason there's a Tripawds but no Bipawds site. I had to throw in the towel and stop the fight.
In the nearly two weeks since I said goodbye to the best friend I'll ever have, I've had several people tell me it's a shame he lost his fight with cancer. But he didn't lose. The cancer may have taken his body. But his personality was never broken. His will was never broken. His spirit was never broken.
Rocky's at the Bridge now. Romping on all fours with a yucky green tennis ball in his mouth. That's not losing. That's winning. Because fighters win. Champions win.
From now on, I'm going to say Balboa is his middle name.