I went to the greenway today, for the second time since Rocky went to the Bridge and the first time since the actual day. I'm not sure why. Compared to other places, it doesn't really hold a lot of significance. Then again, maybe it holds more than I give it credit.
There's a dog park there. It's off from the parking lot where people leave their cars before walking. Rocky always hated the dog park. I surmised that maybe he ran into a pack of bigger dogs and got the worst of it when he was on his own. Just a guess.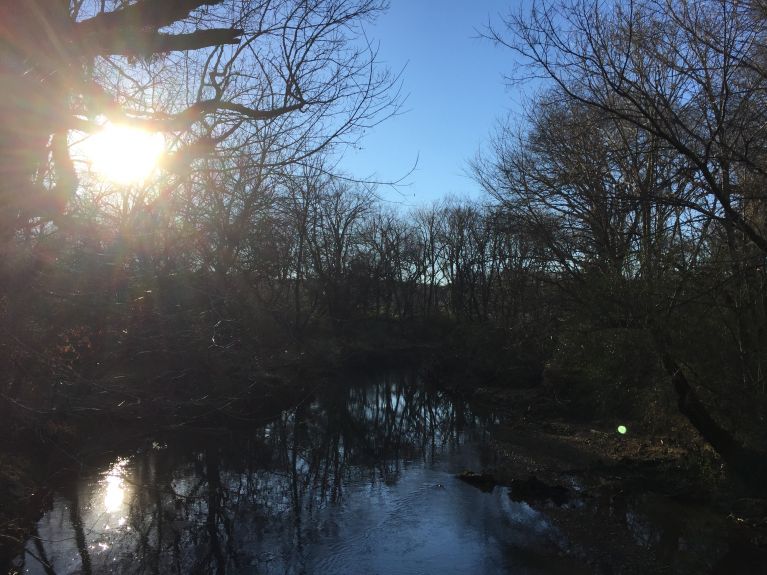 The view from the bridge (January 2017)
It was sometime around Thanksgiving, 2009, when I took Rocky to the dog park there. It was just about two months after I adopted him.  We met my dad, who was there with his two dogs – Ripple and Tigger.
I'm a shy guy. Ask anybody who knows me to describe me in a word and there's a 95 percent chance they use the word "quiet". So there we were. Ripple and Tigger running and frolicking, chasing and being chased by other dogs. Rocky? He quietly meandered along the fence, sniffing and searching, far away and out of sight from the other dogs. He wanted no part of the pack running and playing together. His dad sat at a picnic table, far away from the other people. Yup, two peas from the same pod.
We eventually left – my dad, me and our three pups – along a winding path that avoided the playground between the parking lot and the dog park. That may have been the first and last time Rocky and I went to the dog park there. I'm honestly not sure. I see no reason why we would have gone back.
More than two years later, Rocky and I were back in the parking lot. I had gotten my car washed and then swung through the drive-thru at Chick-Fil-A for a large sweet tea before meeting a female co-worker on an abnormally warm late February day. We had started spending a lot of time together – me and her – and she wanted us to meet up on a Saturday afternoon to take our dogs for a walk along the greenway. It's roughly two miles from start to end. And by the time we had completed the four-mile round trip – me, her and our two dogs – I had decided I wanted to be more than just c0-workers or even friends.
Six months later, Rocky and I were back on the greenway – just the two of us. The brief romance with the co-worker had fizzled. As we walked on a warm September day, I reminisced about the February walk, sad at what had become of my human relationship but thankful that my best boy was still by my side.
The greenway wasn't much more favorable to Rocky than the dog park. It was an asphalt path that split a row of trees. Rocky was never really comfortable being surrounded by woods. I surmised that he had been abandoned in some similar woods. Again, just a guess.
As we walked away from the car, he was careful to keep me either in front of him or by his side. He never dared get in front of me. We'd walk about halfway down the path to a bridge. There we'd stop and stare out at the water for a few minutes. Then we'd head back to the car. Rocky made a bee line – no time for sniffing or peeing – as he pulled in front of me on the path back. I could feel his anxiety. It never relinquished until he was safely in the back seat of our car.
I can't tell you how many times we repeated that scenario on the greenway. When the weather was decent – in the spring or fall – we'd go a couple of weekends a month. The last few years we didn't go as often. It was easier to just walk through the neighborhood, where Rocky was more comfortable.
Last January, as we waited on word as to whether Rocky needed a biopsy for his hobbled front right leg, I went back to the greenway on my own. The weather was similar to that late February day years before. I made my way to the bridge and peered out at the water. And I prayed. I prayed a biopsy wouldn't be necessary. I prayed Rocky's leg would be fine. I prayed it would be anything but cancer. My prayers went unanswered.
Eight months and seven days later, I went back to that parking lot with Rocky's collar in hand. I went to the dog park and watched the handful of dogs run and frolick and play. I imagined my boy walking along the fence in the distance quietly sniffing and searching by himself. And I cried.
I took the same winding path we had taken years earlier past the playground and parking lot and made my way down the greenway. I stopped at the bridge and peered out at the water. Then I continued to the end of the path before turning around and making my way back toward the car. I walked as fast as I could on my way back.